Top Pay N Play Casinos Online
1
Our Choice

Nitro Casino Read Review

Daily rewards Registration in under 1 minute Hundreds of premium games

Daily Promotions, deposit bonuses, and free spins
To the Casino
2

Casumo Read Review

Over 2,000 casino games Free spins and deposit bonus rewards Dedicated mobile app

100% bonus up to €300 and 20 free spins
To the Casino
3

Ultra Casino Read Review

Safe & secure payment methods Industry-leading game providers 1 Minute registration

Daily first deposit bonus
To the Casino
4

LeoVegas Read Review

Numerous trustworthy licences Welcome bonus, sports bonus, and live casino bonus Multi-award-winning casino

Match bonuses on first four deposits up to €400
To the Casino
5

ComeOn Read Review

Over 1,500 casino games A well established casino Safe payment methods

100% match up to €25
To the Casino
6

21.com Read Review

Over 1,000 casino games Regular deposit bonuses Fast, safe & secure withdrawals

€1000 Deposit Bonuses & 1000 Free Spins
To the Casino
How Does Pay N Play Work?
Have you ever found yourself abandoning an online casino sign-up simply because the registration form was too boring to complete?
You're not alone.
If you want to try out new casinos without the hassle of filling out those tedious, same-old sign up forms, then Pay N Play casinos are the solution you've been waiting for. At Pay N Play casinos, you can begin depositing immediately without having to register an account first.
It may seem incredible, even illegal maybe. How can it be possible to play at online casinos, with real money, without registering an account? Well, thanks to our ever-increasing levels of technology, it is possible.
The basic principles are straightforward from a player perspective.
You land on a Pay N Play casino's homepage, click the deposit button, complete your deposit, and then begin playing.
That's it.
Since this is a new concept in online gambling, players may be uncomfortable with the idea of not creating an account. We were sceptical at first until we understood the process better.
You may wonder: what happens to my balance if I don't feel like playing anymore?
Well, there are two options here:
You can cash out, in which case the funds are immediately transferred back to your bank account.
You can leave the casino (even close it) and come back later to find your balance intact.
The way this works is that the payment service provider that facilitates the Pay N Play process does an automated identity check in the background. The service provider, Trustly, verifies your identity because you are using Trustly to complete your deposit at the casino directly from your bank account.
In a way, Trustly vouches for you that your details are correct. With regular online casinos, the sign-up and verification process is necessary for the casino to verify your identity thereby adhering to the legal requirements of its gambling license. With Pay N Play casinos, Trustly verifies your details since your bank already has all your KYC information.
KYC stands for Know Your Customer. The KYC documents that online casinos typically require include identity documents and utility bills that confirm your place of residence. It's accepted that your bank already has these documents. So when you deposit at Pay N Play casinos from your bank using Trustly, the casino is maintaining the rules of its licence while allowing you to play immediately.
The best part is that if you win, you can withdraw your winnings immediately, without going through the tedious verification process usually required before payouts.
To recap, you can begin playing at Pay N Play online casinos in a few easy steps:
Deposit: You can initiate a deposit immediately without registration by clicking the 'deposit' button and entering the amount you want to deposit.
Complete the deposit: Trustly opens a secure window that lists participating banks in your region. Select your bank and follow the prompts provided by the online banking portal. This will be familiar to you if you have ever used your bank to make online purchases before.
Start playing: You'll receive a text message on your phone or an email, as you usually would when you pay online from your bank account. Enter the PIN you receive in the secure window to load your casino balance and begin playing.
Can I Get a Casino Bonus if I use Pay N Play?
You can absolutely get a bonus at Pay N Play casinos. These no-registration gambling sites offer the same types of bonuses that regular online casinos offer; in some cases, the bonuses are even more enticing.
Before we get into the types of bonuses available, it's necessary to make a distinction between the two types of no-registration casinos currently available.
Pure Pay N Play Casinos: At these online casinos, Trustly's Pay N Play is the only method of payment supported.
Hybrid Pay N Play Casinos: At hybrid casinos, Trustly is one of the payment methods supported. At these casinos, you will still find regular payment methods such as credit cards, debit cards, e-wallets, and so on.
Since you have to deposit at pure Pay N Play casinos before you can start playing, you will not receive no deposit sign-up offers at these casinos. However, there are plenty of no deposit welcome bonuses available at online casinos that incorporate the hybrid model.
So, let's look at some of the amazing bonuses you'll find at Pay N Play casinos:
A deposit bonus is a bonus that is added to your casino balance upon the completion of a successful deposit. These are usually stated as a percentage of your deposit. If you claim a 100% deposit bonus and deposit €10, you will receive a bonus of €10. Your total balance will be €20.
At Pay N Play casinos, wagering requirements still come into play when you claim bonuses. If you claim a bonus with a wagering requirement of 20x, you will have to play the bonus through 20 times at the casino before you can withdraw your winnings.
Players who are keen to take advantage of the instant withdrawals offered at Pay N Play casinos may forgo a deposit bonus to avoid having to wager the bonus a specific number of times before they can withdraw.
A no deposit bonus is a bonus that is added to your casino balance without requiring a deposit from your side. Most casinos will require you to register before claiming a no deposit bonus, even if they do offer Trustly as a payment method.
Free spins are spins that a casino will give you to play. The benefit of free spins is that you can play them without using your casino balance. Any winnings you make while playing free spins will be added to your balance. However, winnings made from free spins usually have wagering requirements attached. You will have to meet the wagering requirements before you can withdraw.
A welcome bonus is a bonus given to players who are new at a casino. This type of bonus can be a deposit offer, a no deposit bonus, free spins, or any combination of these bonuses.
A cashback bonus is a bonus amount that an online casino will give back to you once you have deposited and played at the casino. The casino may offer a cashback bonus equal to your deposit or a percentage of your deposit. You may be able to claim the bonus before your deposit is depleted. But remember that bonuses have wagering requirements attached.
Cashback bonuses are useful at Pay N Play casinos because you can withdraw your winnings immediately if you haven't claimed the cashback bonus yet. However, once the cashback bonus is added to your account, you'll have to meet the wagering requirements before you can withdraw. Read the terms and conditions of cashback bonuses carefully before you decide when and how to claim them.
FAQ
Frequently asked questions about Pay N Play Casinos
What games can I play at a Pay N Play casino?
You can play all the same games as you can at a casino that does not offer Pay N Play as a payment method. The games include, but are not limited to: slots, roulette, blackjack, craps, poker, baccarat, live dealer games, game shows, scratch cards, and video poker.
Can I try the games at Pay N Play casinos for free?
Yes. Most Pay N Play casinos will let you try the slots and table games for free. You can click on the game to launch it before you make a deposit. If you have already made a deposit, be sure to switch to free mode when you want to try a game without using your real money balance.
You cannot try the live casino games for free since these games are hosted by real people and streamed in real-time. Some online casinos will allow you to watch the live games without depositing but you won't be able to participate in the games.
Can I download a Pay N Play casino app?
Yes. The situation with Pay N Play casinos is the same as with regular sign up online casinos. Some Pay N Play casinos do offer a dedicated application for mobile devices, but not all of them.
Even if a casino doesn't have an app, you can still play on your mobile device if you have a smartphone or tablet. You can open the casino in your web browser and begin playing immediately, without downloading a separate application.
Why don't I need to create a casino account if I use Pay N Play?
There's no need to register an account or validate your identity documents at these casinos because when you use Pay N Play, your bank provides this data. Since the participating banks are trusted, no further checks are made by the casino.
Which banks support Pay N Play?
This is a relatively new payment method that many banks are still in the process of adopting. However, banks are rapidly busy implementing it which is why the list of banks that support Pay N Play updates very frequently.
You can check with your bank to see if it is supported or you can go to one of the Pay N Play casinos on this site and click the deposit button to see if your bank comes up.
Are there any fees for depositing with Pay N Play?
Trustly does not charge any additional fees for depositing with Pay N Play. Most online casinos don't charge any fees for depositing with this method; however, this is at each casino's discretion. You can check the Banking, Deposits, or Payments page of any particular casino to be sure whether or not there are additional charges.
Are there any fees for withdrawing with Pay N Play?
Trustly does not add any charges for using Pay N Play to withdraw your funds from online casinos. Some casinos may charge fees when you request a withdrawal. You can check the casino's Banking, Withdrawals, or Payments page to confirm if there are any charges for withdrawing via this method.
What's the difference between Pure Pay N Play casinos and Hybrid ones?
At Pure Pay N Play casinos, Pay N Play is the only payment method supported and no registration is required. Hybrid Pay N Play casinos support alternative payment methods and you may be required to follow the regular registration process at these casinos.
Is Pay N Play Safe to Use?
It's normal to be concerned about the safety of your casino balance, especially if you haven't even created an account.
Pay N Play is perfectly safe to use. Since your account is created automatically in the background (thank you technology), you can leave the casino at any time and log in again later to pick up where you left off. Your balance will still be there. The casino account is linked to your bank ID, so there's no need to log in as you usually would at other online casinos.
Trustly is a multi-award-winning payment provider and a leader in digital account-to-account payments. The company employs more than 500 people located in offices across Europe, Australia, and America.
Here's a look at Trustly by numbers:
Supported by over 6,300 leading banks
Upwards of 8,100 connected merchants
More than 525 million consumers reached
And here's a sample of Trustly's most recent achievements:
Best PISP (Payment Initiation Service Provider) at the Merchant Payment Ecosystem Awards
Malta's Best Payment Provider Company of the Year at the Malta iGaming Excellence Awards
Malta's Best Employer Brand of the Year at the Malta iGaming Excellence Awards
Malta's Best iGaming Excellence in Customer Service of the Year at the Malta iGaming Excellence Awards
You can see from the numbers alone that Trustly, and therefore Pay N Play, is safe to use. Banks won't support fraudulent payment services. Data protection is a top priority at Trustly with all information being transferred along securely encrypted connections.
Players can only use Trustly to deposit at online Pay N Play casinos once they have activated the service in their online banking profiles, which adds an extra layer of security to these transactions.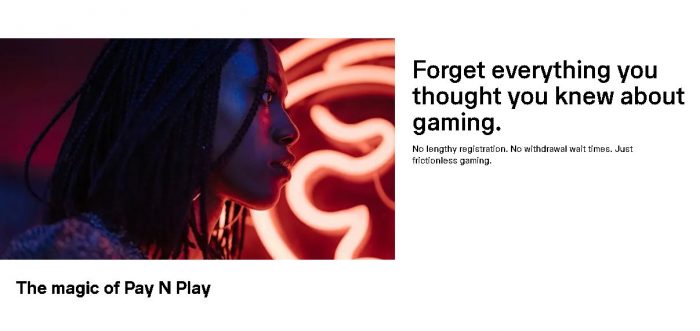 Pros and Cons of Pay N Play Casinos
The Pay N Play model has many advantages for players as well as some disadvantages that should be considered. Here they are in a nutshell.
Pros:
No registration required | you can begin playing instantly at Pay N Play casino without entering your details and signing up.
Eliminates the KYC process | you don't have to send the casino your identity documents or utility bill.
Instant withdrawals | if you have completed the wagering requirements of your bonus, or if you did not claim a bonus, you can withdraw your funds instantly.
Secure transactions | the payment method is trusted by leading banks and employs high-level encryption technology to ensure data safety and integrity.
Cons:
Limited online casinos | Pay N Play is fairly new to the online gambling industry so you'll find there are much fewer online casinos offering this method of payment than more established methods.
Activation required | you have to activate the service in your banking profile before you can use it at online casinos.
Not all banks supported | Trustly is supported by thousands of banks but not all of them. This means Pay N Play casinos are not an option for everyone just yet.
Non-optional withdrawals | Withdrawals will be paid to the same bank account that was used to deposit. You cannot select a different method at pure Pay N Play casinos.
Pros
No registration required
Eliminates KYC
Instant withdrawals
Secure transactions
Cons
Limited online casinos
Activation required
Not all banks supported
Non-optional withdrawal
It's worth noting that the last drawback mentioned only applies to certain online casinos, and casinos that use the pure Pay N Play mode. There are hybrid Pay N Play casinos that may let you choose a different payment method for your withdrawals.
Other Similar Services
The Pay N Play model is unique and you don't find many other payment providers that offer this service to a global audience. Zimpler offers a similar service, but it's only available to players in EU countries – mainly Sweden and Finland.
Many payment providers facilitate transactions between your banks and online casinos, but none of them offers the automatic verification process that Trustly does.
The closest alternative to Pay N Play's no registration casino service is instant-play crypto casinos.
Cryptocurrency users that gamble online are familiar with the concept of no registration casinos because they've been around for a while – but only for crypto payments.
At crypto casinos, players can deposit and begin playing immediately without registering an account or going through the verification process. Deposits and withdrawals at these casinos are instant – the same as at Pay N Play casinos.
How to Start Playing with Pay N Play
You can begin playing at no registration casinos immediately, without signing up, provided your bank supports Pay N Play.
If you have an internet connection and a device that connects to the internet, such as a smartphone, tablet, laptop, or desktop PC, you can follow these steps to start playing:
Select a Pay N Play casino on this page to open the casino in your browser.
Click the 'Play Now' or 'Deposit' button.
Enter the amount you want to deposit.
Select your bank from the list of options.
Enter your online banking login details in the secure form.
Verify the secret PIN that you receive via text message.
Once you have completed these steps, you are registered and verified with the casino and can begin playing. You can also withdraw your winnings at any time without sending the casino your documents. Your withdrawal will be sent instantly to your bank account.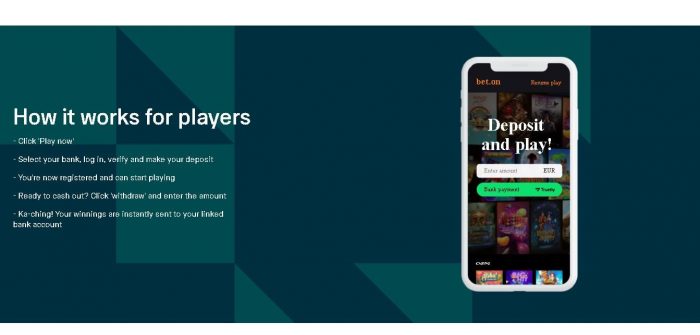 Licensing and Regulation at Pay N Play Casinos
Trustly Pay N Play is a legitimate online payment method trusted by many leading banks. But that doesn't mean we should let our guards down when it comes to online casinos that support this payment method.
It's always best to play licensed casinos, regardless of the payment providers the casinos utilise. Licensed casinos must adhere to strict principles and procedures to get their licences and maintain them, which is why it's safer to play at these casinos.
Pay N Play casinos apply for their gambling licences from the same authorities that other online casinos do. You can view the details of an online casino's licence on the casino's website. The licence details are usually displayed at the bottom of the homepage.
We recommend that you double-check all licences with the authority that issued them since it's easy enough for fraudulent online gambling sites to display fake licences.
The benefits of playing at licensed Pay N Play casinos are:
The games are fair and the outcomes are random.
The casino cannot withhold your winnings without a valid reason.
You have a third party you can apply to for the resolution of your queries.
The casino uses encryption methods and security software to protect your personal and financial information.
The casinos that we support hold valid licences that are issued by globally recognised gambling authorities. These authorities regulate the online casinos to ensure that they maintain the conditions of their license.