Be Gamble Aware
If you are still starting out in the gambling world, you will want to read our helpful guide to how to gamble safely. Below you will find all you need to know about Responsible Gambling, what it is and how to practise it.
What is Responsible Gambling?
Let's start with the core definition:
Responsible gambling is the set of social responsibilities that operators take in order to ensure that their players are aware of the risks associated with iGaming, offering help and support in case of signs of addiction.
The Risks of Online Gambling
Just like real life gambling, playing at online casinos can come with high rewards but also with its own risks. No matter whether you bet on poker, roulette, blackjack, slots or any other online game, you are still putting at stake your own money.
Though RTPs are very high and RNGs are confirmed by third-party checks, it does not mean that you are certain to win.
We know you want to win big, and that you can just feel that luck will be on your side just this next time – but it is always good to play in moderation, and sometimes that means stepping away from the table.
Do you feel like you can't do it? Are you compelled to bet just once more over and over again? Then you may be showing the first signs of having a gambling problem. It's nothing to be ashamed of, it can happen to anyone – after all, gambling can be addictive and should be played in moderation.
Don't panic! Help is on the way.
How to Spot a Gambling Addiction
There are a few tell-tale signs of an early addiction to gambling. Here are a few:
Being constantly preoccupied with gambling, always thinking of how to make more money
Needing to up the money bet in order to get the same thrill
Trying to gain control, cut back or stop gambling, but without success
Feeling restless or irritable as a consequence
Gambling to relieve feelings of helplessness, guilt, anxiety or depression
Trying to get back the losses by gambling more (chasing losses)
Lying to family members or others to hide your gambling habits
Jeopardising or losing important relationships, a job, or school or work opportunities because of gambling
Resorting to theft or fraud to gain more money for gambling
Asking others for money because you gambled your money away
Do the above resonate with you? Then you might want to think about getting some help. At the end of the day, gambling should be a fun, entertaining activity, not a chore.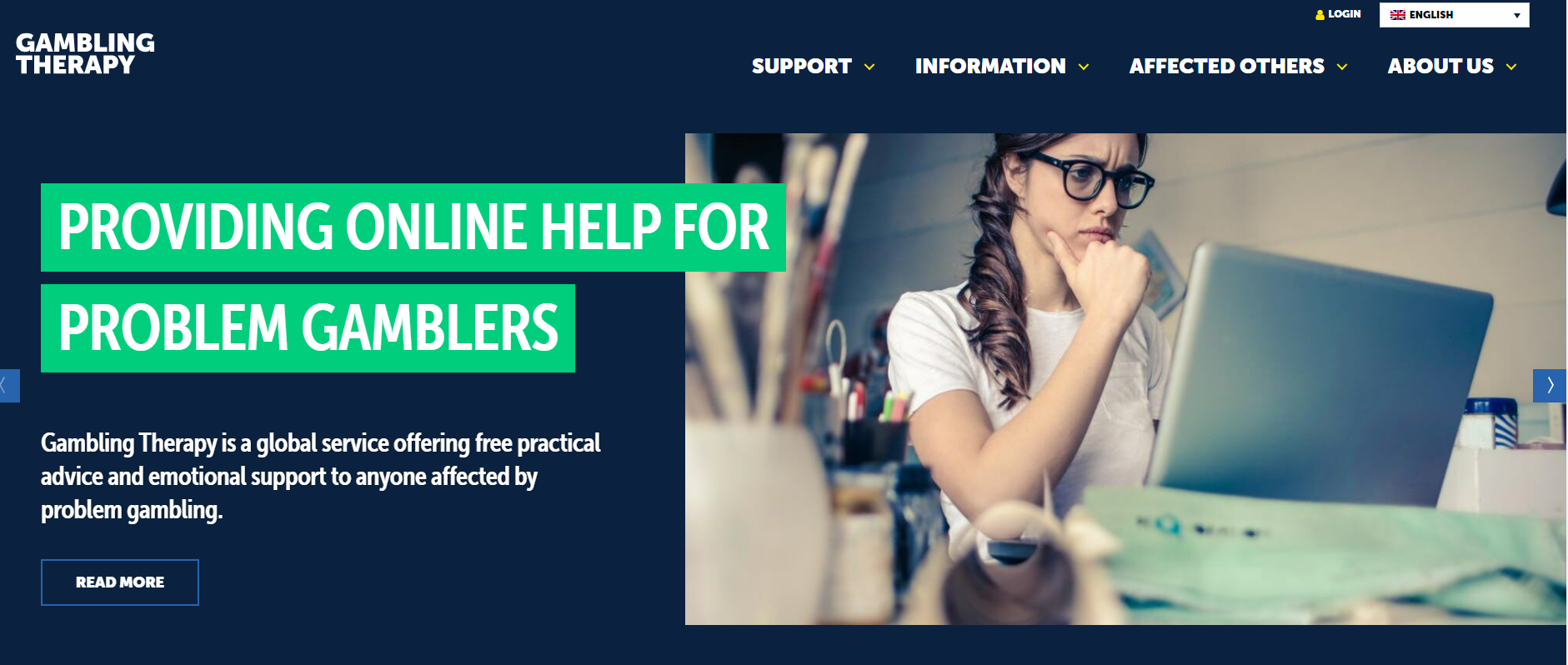 Gambling Help: Where to Find it
It's normal to feel at a loss if it is your first time experiencing such foreign feelings – but you are not alone. You can reach out to many different outlets to seek support:
Online Casino Customer Support: online providers have a variety of support channels you can look into: you can start a chat, send an email, or call their phone number to speak to an agent who will be more than happy to help you further.
Gambling Charities: some special charities or nonprofits offer free, confidential help to those seeking it.
Support Groups: you might struggle to open up to someone over the phone or through a screen. Support groups might be the best option; here you can meet people in your same situation and help each other overcome the problem. It's always nice to have a frie
nd that can give you a good pat on the back!
Forums: on the other hand, you might prefer not to reveal yourself to others just yet, in which case an online forum would be the best option for you. You would still be conversing with others, gaining advice and information, but with a higher anonymity.
Depending on where you are based, there could be different charities or support groups you could contact. Here is a list of a few well-known organisations that can help you get back on the right track:
We highly recommend you do a quick check to see if any local support groups may cover your area as well. What is most important, however, is that you are comfortable and at ease speaking about your habits.
Only Play at Licensed Casinos
The reason why we are adamant about punters playing at licensed casinos is because a licence will give you peace of mind when gambling your hard-earned money.
Firstly, it is illegal in certain markets to play at an unlicensed casino.
Secondly, a licence from a trusted jurisdiction implies that the casino has undergone rigorous background checks that have shown it is clear from any illegal activity.
Furthermore, licensed casinos operate under strict regulation imposed by the Committees.
When playing at a licensed casino, you know that your funds are in the hands of a safe operator and that you will not be scammed.
Playing at fraudulent online casinos can result in issues such as lack of customer service, credit card abuse, false advertising, irresponsible marketing, and refusal to honour your payments.
Licensed casinos offer SSL encryption to safeguard your information, deliver fast payouts, have great customer service, and boast reliable games provided by the best game developers in the world. The games are regularly tested to confirm they deliver random results (RGN).
Some of the most well-known and respected licences you can find are issued by:
Swedish Gambling Authority
United Kingdom Gambling Commission
Malta Gaming Authority
Danish Gambling Authority
Alderney Gambling Control Commission
Gibraltar Regulatory Authority
There are many more local authorities which issue gaming lincences and oversee gambling in their respective areas of jurisdiction. Make sure to look into which body governs your area and check for any licensing they may offer, and compare them with the casino you wish to play at.

Online casino with a strong Responsible Gaming Programme
We like nothing more than an online casino that respects their players and offers support in time of need.
You will often find a section called Responsible Gaming mentioned on providers' websites where you can find helpful methods that the casino provides to aid their users.
Some casinos do the bare minimum, others have a stronger support system, but some really take the cake. Here is a list of great brands that have left us very impressed:
Mr Green | with a website entirely dedicated to RG, Mr Green shows just how responsible of an operator it is. With great advice and branded self-help tools, this gambling gentleman shows that chivalry isn't dead after all.
William Hill | though its website graphics aren't as modern as its aforementioned cousin, William Hill offers heaps of advice tailored to both UK and non-UK punters.
Betsson | a certificate granted by the Global Gambling Guidance Group (G4) is well displayed on this casino's site. All information can be found on one page, and a self-assessment tool is completely anonymous.
Betway | short and straight to the point. No fluff, no nonsense, just simple guidelines and helpful links.
Kindred | one of the most comprehensive websites that tackles the issue of Responsible Gambling. Clear annual goals are reported on their page, and public reports are accessible by readers.
These are only some examples of how providers are tackling the issue of responsible gaming in different manners. Make sure to check your favourite casino's RG section to learn more about responsible gambling and what they offer to help in that regard.
Self-Help Gambling Tips
To keep your gaming under control, there are a few tips and tricks you can try out. Here is what you can do to help yourself stay on the right track:
Self-exclusion — Cut back on gambling by giving yourself space to take a breather. You can choose to close your account for a few months, years or indefinitely. Note that you will not be able to access your account before the selected time has elapsed.
Set time limits — Time flies when you are having fun but you must remain aware of just how long you spend in front of the screen gambling. Give yourself limits on time spent at the casino and set an alarm on your phone to remind you to stop.
Play with a budget — Decide on a maximum amount you want and can afford to bet. Top up your online casino account with it and start playing. Do not go over it.
Remain mindful — Always remind yourself that no matter how high your chances may be, the odds are always in favour of the house. Skill and knowledge can definitely help you come up with a strategy but winning comes down to pure luck.
Take self-assessment tests — Online you can find a myriad of tests you can take for free in order to assess your current situation. Don't shy away from them, and be completely honest with yourself when completing them. Rest assured that they are anonymous, so nobody will know that you took them.
Stay healthy, stay safe — Do not gamble when under the influence of alcohol or drugs. You want to be 100% present and attentive so you can clearly understand what is going on and how best to bet your hard-earned money.
Safe Gaming – You've Got This!
Now you are ready to get your game on in all safety. Just bear in mind all of the tips above, and do not be afraid to reach out in case you feel like you need a hand. Help is just round the corner!
Sources: Mayo Clinic